Werbung
Overview

Hammertoe is a condition in which the toes of your feet become contracted into an upside-down "V" shape, causing pain, pressure and, often, corns and calluses. Hammertoes can develop on any of the toes, but generally affects the middle three toes, most often the second toe. The bones, muscles, ligaments and tendons of your feet normally are well-balanced to distribute your body's weight while standing, walking and running. When the first and second joints of your toes experience the prolonged stress that develops when the muscles that control them fail to work together properly, the pressure on the tendons that support them can lead to the curling or contraction known as hammertoe.


Causes

More often than not, wearing shoes that do not fit a person well for too long may actually cause hammer toes. Wearing shoes that are too narrow or too tight for the person for extended periods of time may eventually take a toll on the person's feet. The same is true for women who like wearing high-heeled shoes with narrow toe boxes.



Symptoms

Common reasons patients seek treatment for toe problems are toe pain on the knuckle. Thick toe calluses. Interference with walking/activities. Difficulty fitting shoes. Worsening toe deformity. Pain at the ball of the foot. Unsightly appearance. Toe deformities (contractures) come in varying degrees of severity, from slight to severe. The can be present in conjunction with a bunion, and develop onto a severe disfiguring foot deformity. Advanced cases, the toe can dislocate on top of the foot. Depending on your overall health, symptoms and severity of the hammer toe, the condition may be treated conservatively and/or with surgery.


Diagnosis

A hammertoe is usually diagnosed with a physical inspection of your toe. Imaging tests, such as X-rays, may be ordered if you have had a bone, muscle, or ligament injury in your toe.


Non Surgical Treatment

You should seek medical advice if you have a hammer toe. Here are some things you can do in the meantime. None of these things will cure the hammer toe, but they may relieve the pain and discomfort. Only wear shoes that are high and broad across the toes. There should be at least 1.5 cm of space between your longest toe and the tip of the shoe. Keep in mind that this could be either your big toe or your second toe. Don't wear heels higher than 5 cm. Wear the appropriate shoe for the activity you are doing. You can buy non-medicated hammer toe pads. They fit around the pointy top of the toe joint and help relieve painful pressure. Gently massaging the toe may help relieve pain. Put ice packs wrapped in cloth on the hammer toe to reduce painful swelling.


Surgical Treatment

Surgery may be the treatment of choice if conservative approaches prove unsuccessful. Usually performed as an outpatient procedure, the specific surgery will depend on the type and extent of injury to the toe. Recovery my take several days or weeks and you may experience some redness, stiffness and swelling of the affected toe. Your physician will recommend taking it easy and to keep your foot elevated while you recover.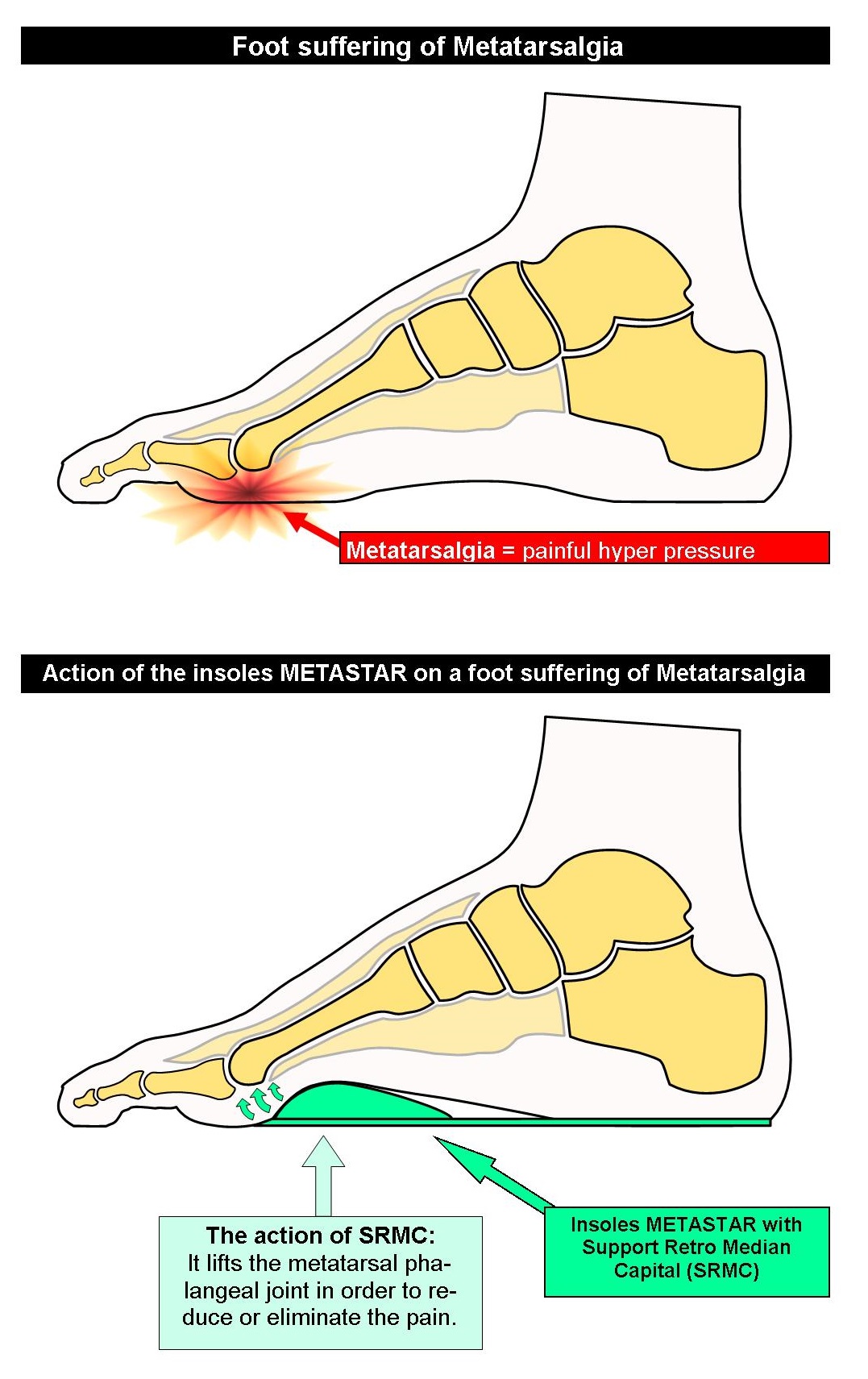 Prevention

Most cases of hammertoe can be prevented by wearing shoes that fit properly and give the toes plenty of room. Some recommended guidelines include avoid shoes with pointed or narrow toes. Avoid shoes that are too tight or short. Avoid high-heeled shoes, which can force the toes forward. If the shoes hurt, don't wear them. Choose shoes with wide or boxy toes. Choose shoes that are a half-inch longer than your longest toe.
Werbung
Werbung
Overview

A bunion is a bony enlargement of the joint and surrounding soft tissues at the base of the big toe. The enlargement makes the big toe joint stick out further on the side, and forces the big toe to curve in closer to the other toes. For some people, bunions cause little or no pain. In Canada, women are 10 times more likely than men to have bunions. Managing the condition so that it doesn't get worse is a matter of wearing appropriate footwear, cushioning and supporting the area, and taking pain relievers as required. People with more severe bunions may need more specific treatment, such as surgery.
Causes
Bunions are more common in women than men. The problem can run in families. People born with abnormal bones in their feet are more likely to form a bunion. Wearing narrow-toed, high-heeled shoes may lead to the development of a bunion. The condition may become painful as the bump gets worse. Extra bone and a fluid-filled sac grow at the base of the big toe.
Symptoms
Bunions may cause no pain at first. But as the big toe begins to turn in towards the other toes, people with bunions usually experience redness, pain, swelling, and tenderness in the area around the joint. Pressure inside the joint or from footwear pressing against the bunion may also cause discomfort. As the affected toe curves closer to the other toes on the foot, these toes can become painful as well. Complications of bunions include corns, calluses, hammer toe, and ingrown toenails. Other complications include irritation of the nerves surrounding the bunion area. Excess rubbing of the bunion against the footwear may lead to changes in the skin, resulting in corns or calluses. Hammer toe is a deformity of the toe immediately next to the big toe. A hammer toe is slightly raised and points upwards from the base and downwards at the end of the toe. Ingrown toenails can result from increased pressure from the big toe on the other toes. There may also be a decrease in the amount a person can move the joint affected by the bunion. Irritation of the nerves will feel like burning or decreased sensation.
Diagnosis
Your family doctor or chiropodist /podiatrist can identify a bunion simply by examining your foot. During the exam, your big toe will be moved up and down to determine if your range of motion is limited. You will be examined for signs of redness or swelling and be questioned about your history of pain. A foot x-ray can show an abnormal angle between the big toe and the foot. In some cases, arthritis may also be seen. A X-ray of your foot may help identify the cause of the bunion and rate its severity.
Non Surgical Treatment
Sometimes observation of the bunion is all that?s needed. To reduce the chance of damage to the joint, periodic evaluation and x-rays by your surgeon are advised. In many other cases, however, some type of treatment is needed. Early treatments are aimed at easing the pain of bunions, but they won?t reverse the deformity itself. These include changes in shoewear. Wearing the right kind of shoes is very important. Choose shoes that have a wide toe box and forgo those with pointed toes or high heels which may aggravate the condition. Padding. Pads placed over the area of the bunion can help minimize pain. These can be obtained from your surgeon or purchased at a drug store. Activity modifications. Avoid activity that causes bunion pain, including standing for long periods of time. Medications. Oral nonsteroidal anti-inflammatory drugs (NSAIDs), such as ibuprofen, may be recommended to reduce pain and inflammation. Icing. Applying an ice pack several times a day helps reduce inflammation and pain. Injection therapy. Although rarely used in bunion treatment, injections of corticosteroids may be useful in treating the inflamed bursa (fluid-filled sac located around a joint) sometimes seen with bunions. Orthotic devices. In some cases, custom orthotic devices may be provided by the foot and ankle surgeon.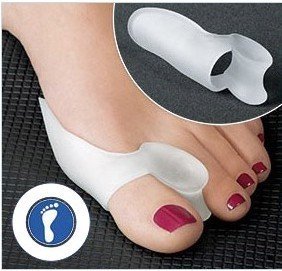 Surgical Treatment
For severe bunions, outpatient surgery may be recommended. Within hours after surgery, you?ll be on your way home and ready for recovery. Your foot will be bandaged following surgery and placed in a surgical shoe which allows you to remain mobile. Immediate weight bearing without the use of casting or crutches is standard post- operative recovery for bunions. In most cases, the majority of healing should occur within a few weeks and you can resume normal activity within a short period of time. Bunion surgery can both reduce pain and improve the appearance of your feet. After surgery it is important to see your podiatrist as scheduled and follow all recovery instructions.
Werbung